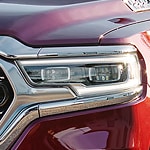 The new Ram 1500 is easy to appreciate as a powerful work truck. However, it also is packed full of safety features that keep you safe whether you are driving your new truck for work or as a family vehicle.
One of the ways that it keeps you safe is with its 360-degree surround vision camera. This camera lets you see every angle of your pickup. You can easily find out if anything or anyone is beside your truck, behind it or in front of you. The new 1500 from Ram also has adaptive cruise control. This cruise control feature lets you keep up with traffic. It adjusts your speed automatically to help you avoid rear end accidents.
Finally, the 1500 from Ram comes with a lane keeping assist feature. It warns you if you are getting too close to the shoulder of the road or drifting over the median.