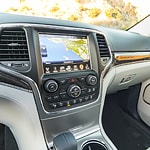 If you are looking for a safe SUV, then you will want to consider the popular Jeep Grand Cherokee. For years, the Jeep Grand Cherokee has continued to add more and more top safety features. Here's a look at some amazing Grand Cherokee safety facts.
The Jeep Grand Cherokee comes standard with over 70 standard active and passive safety features. These safety features include everything from seven airbags to Parksense and Blind Spot Monitoring. Also, the Jeep Grand Cherokee is a leader when it comes to engineering and safety construction. The Grand Cherokee is built on a high strength steel frame. This frame allows you to have the ultimate peace of mind during each drive.
Get to know more about the Jeep Grand Cherokee at Moss Motor Company Inc. We are currently offering all of our Grand Cherokee models at amazing prices. Don't wait. Our Grand Cherokee models are going fast.