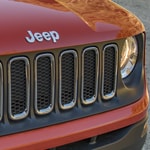 When you are looking for a fun and convenient way of getting your family where they need to go, the Jeep Renegade is a worthwhile option. This is a popular subcompact SUV that really looks great. Not only will everyone be more then comfortable on the inside, but you will also get more than a few looks as you drive.
To begin, you really must take a look at the Power Removable Sunroof. This is great for outdoor adventures. It allows you to take in the fresh air and visualize your surroundings when open, or you can keep it closed. The choice is always up to you.
There are also multiple wheel options that you can choose from. You will want to check out the black aluminum low-gloss wheels if you are looking for something unique. These even comes standard with the Upland. Take the Renegade on a test drive the next time you are at Moss Motor Company Inc.